Services...


'Finish Line Services' provides Start and Finish Line services and equipment for all types of events:


cross-country, trail, road and off-road running
cycling and mountain biking
triathlons, duathlons and multi-sport
cross-country and downhill skiing
snowshoe races
special events, expos; let your imagination be your guide,
from birthdays to bathtub races, and even wedding ceremonies!


'Finish Line Services' has been providing Start and Finish Line services and equipment at running, cycling, multi-sport and other events in Southern Ontario since 2003. For more information, please view our Portfolio page.
Our services and equipment include single and multi-structure Start and/or Finish Lines, as well as inflatable mileage mark structures (i.e., 10k, marathon half way, 20 mile, final kilometre, transition zone entry/exit, and even a wall of water!).
'Finish Line Services' provides worry-free, fast, race day set-up and take-down of our structures and equipment. No scaffolds or pre-race day set-ups are required. We monitor our equipment and are on site throughout your event. Event Directors, we look after your Start/Finish Line so you don't have to. Imagine! One less thing to worry about on race day so you can concentrate on your event! We make you look good!
Want to purchase your Own inflatable? Let 'Finish Line Services' custom design an inflatable structure for your specific needs! Our custom-designed inflatable structures can be found at world-class cycling, running and skiing events all over the world!




Equipment...


Our Start/Finish Line equipment is completely portable, and includes everything we need to provide our services for your event:


all-weather inflatable Start/Finish Line structures
all-weather inflatable barriers
traffic cones
generators
clocks
flags
"Start"/"Finish" banners
a starter's platform/podium
11 foot feather flag Start Line system ***NEW*** (perfect for a point-to-point race where you need a separate and highly visible start line marker!)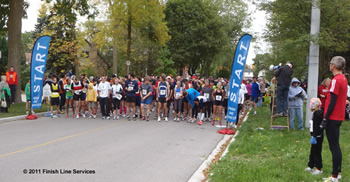 colourful Mini-Systems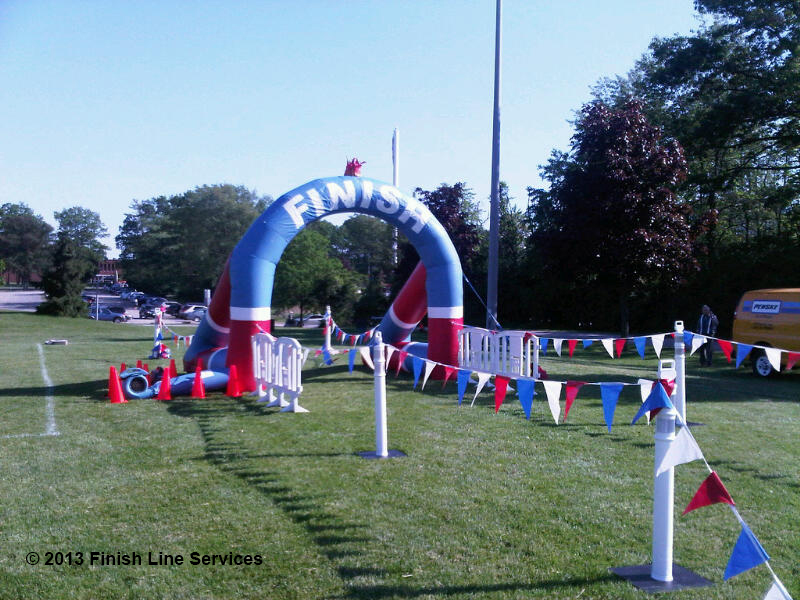 Our larger Start/Finish Line inflatable systems include multiple individual ten-foot lengths of inflatable barrier that can be added to either side of the structures for the desired Start/Finish or other event configuration.

And, each of our larger inflatable structures and barriers together provide over 300 square feet of banner and advertising space!



Dimensions...

Inflatable Structures (various sizes):
Outside width: 20 to 28 feet
Opening width: 12 to 20 feet
Total height: 16 feet
Length of each barrier: 10 feet
Height of each barrier: 3 feet 6 inches
Width of each barrier: 3 feet 6 inches
Square footage of banner/advertising space per barrier:
20 sq. ft per side of banner

Starter's Platform/Podium:

Total height of structure (to top of railing): 87 inches
Height to platform level: 45 inches
Total width of structure: 24 inches
Total depth of structure: 56 inches
Platform dimensions: 30 inches x 24 inches